The Early Years
1907    Experimental Camp on Brownsea Island in Poole Harbour from 29th July to 9th August.  Scouting, conceived in Mafeking, is born.
1908    Scouting for Boys published.  First issue of The Scout, a weekly publication for boys.
Ernest Thompson Seton spoke at a conference organised by William Wakefield of the Y.M.C.A. at Bispham Lodge, Blackpool to promote Scouting in the North.
First Scout camp led by B-P at Humshaugh in Northumberland.
1909    Scout Headquarters opened at 116 Victoria Street, London.
First issue of The Headquarters Gazette published.
Training Ship Mercury at Buckler's Hard used as the base for B-P's Camp attended by 100 Scouts.
11,000 Scouts, including some Girl Scouts, attended the Crystal Palace Rally in London.
6,000 girls had registered as Girl Scouts.
B-P invested as a Knight Commander of the Victorian Order by King Edward VII.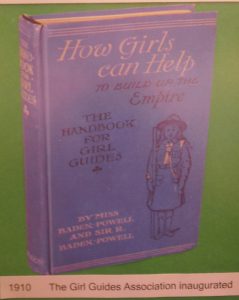 1910    The Girl Guides Association inaugurated.
First Annual Census of Scouting showed there were 100,298 Scouts and 7,688 Scouters in the UK.
B-P resigned from the Army and was accompanied by Beaver and Wolf  Patrols for his tour of Canada.
First appeal to the public for financial help.
Sea Scouts Branch formed.
1911    Scouts on duty at King George V Coronation.
Royal Review at Windsor attended by 26,000 Scouts.
B-P visited Preston and was filmed for the first time.
1912    The Boy Scout Association granted Royal Charter of Incorporation.
First Scout Disaster – nine Scouts of 2nd Walworth were drowned off Leysdown.
B-P married Olave St Clare Soames on 30th October at St Peter's Church, Parkstone.
1913    Duke of Connaught appointed the first President of the Scout Association.
Imperial Scout Exhibition at Birmingham attended by 18,000 Scouts.
The Mirror, sailing ketch, hit by a steamer, 3 Scouts and a leader were drowned.
1914    First National Good Turn to help the Blind.
Thousands of Scouts enrolled for War Service.
1915    The first of four Scout Huts to help British Soldiers was opened.
1916    Jack Cornwell, a former Scout, posthumously awarded the Victoria Cross for his bravery on board H.M.S. Chester at the Battle of Jutland.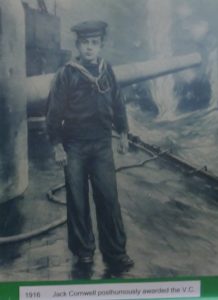 Wolf Cub Handbook published for the new section for 8 – 11 year old boys.
Roland House opened to help Scouting in East London.
Wolf Cub Display held at the Caxton Hall in London.
1917    A scheme for Senior Scouts introduced.
New Scout Headquarters opened at 25 Buckingham Palace Road, London.
Ernest Carlos, artist of The Pathfinder and other Scout pictures, killed in action.
1918    Senior Scout Section renamed Rover Scouts.
The War ends.  Of the 100,000 former British Scouts in the Forces 10,000 were killed.
1919    B-P and Olave moved into their new home, Pax Hill, in Bentley, Hampshire.
Gillwell Park in Epping Forest purchased by William de Bois Maclaren.
B-P led the first Training Course for Scoutmasters at Gillwell with Francis Gidney as the Camp Chief.      John Frederick Wilkinson from Cheshire, a former 1st Blackpool Scout, was one of the 18 participants.