Scouting in the Sixties
1960    Girl Guides' Golden Jubilee.
The Duke of Edinburgh's Award Scheme opened to Scouts.
National Sea Scouts' Jubilee Camp.
Sea Scouts in the Norwind  win the International Sail Training Race.
1961    Baden-Powell House opened by HM Queen Elizabeth II.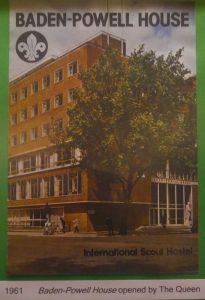 Soap Box Derby renamed National Scoutcar Races.
Uniform long trousers became alternative wear for Senior Scouts and Rover Scouts.
7th World Rover Moot held at Clifford Park in Melbourne, Australia.
1962    Brownsea Island handed over to the National Trust.
Blackpool hosted the National Scoutcar Races.
HM Queen Elizabeth II attended the 30th Anniversary Gang Show.
World Scout Membership reached 9,366,962.
1963    The 11th World Scout Jamboree was held on the Plain of Marathon in Greece.  A total of 10,394 Scouts from 89 countries participated.  The Jamboree Theme was Higher and Wider.
1964    Chief Scout's Advance Party established by the Chief Scout, Sir Charles Maclean.
The Gang Show appeared in the Royal Variety Performance for the third time.
World Scout Membership reached 10,035,540.
 1965    First National Scout Band Championships.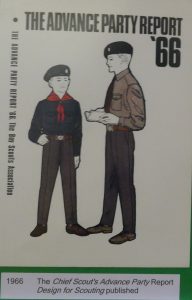 Scouts helped with the Winston Churchill Memorial Fund Appeal.
National Public Relations Campaign launched.
1966    Wolf Cubs Golden Jubilee Year.
The Chief Scout's Advance Party Report Design for Scouting published
resulting in many changes to Scouting.
The Scout ceased to be published.
1967    The Boy Scouts Association renamed The Scout Association.
12th World Scout Jamboree held at Farragut State Park, Idaho, U.S.A.  12,011 Scouts from 105 countries camped in the 5,600 acre former Naval Base.  The Theme of the Jamboree was For Friendship.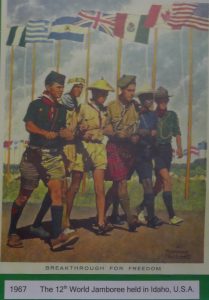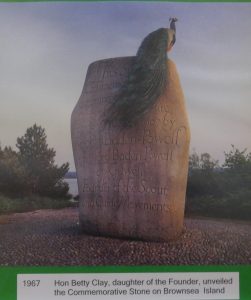 The Hon. Mrs Betty Clay, daughter of the Founder, unveiled the Commemorative Stone, which had been carved by Don Potter, on Brownsea Island.
Implementation of new training schemes for Cub Scouts, Scouts and Venture Scouts.
1968    Prince Andrew joined the Cub Scouts.
Three National Scout Activity Centres announced –  Lasham, the Air Activities Centre in Hampshire,  Longridge, the Boating Activities Centre on the River Thames, Marlow and Whernside, the Caving Centre at Whernside Manor in Yorkshire.
Prince Philip, accompanied by Prince Andrew, took the salute at the Windsor Castle Parade of Queen's Scouts.
First National Scout and Guide Folk Fest held at Baden-Powell House.
World Bureau headquarters moved from Canada to Geneva in Switzerland.
World Scout Membership reached 11,981,737.
 1969    Introduction of minimum standards relating to Scout Groups' numbers and progress in training.
First National Family Camp held at Gilwell Park.
First National Scout Leaders' Camp at Gilwell Park.