Guiding through the Decades 1990 – 2009
1990   Newly-refurbished Commonwealth Headquarters opened by HRH Princess Margaret.
Pax Lodge, W.A.G.G.G.S. World Centre in London officially opened.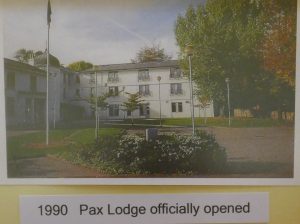 Jane Garside JP (later CBE) appointed Chief Commissioner.
 1991   75th Anniversary of the Ranger Section.
1992   Brownies Go for It!  programme introduced for older Brownies.
New edition of the Guide Handbook published.
1993   HM The Queen Mother visited Commonwealth Headquarters for the Trefoil Guild Golden Jubilee Tea Party.
1994   New name of The Guide Association chosen omitting the word Girl.
New wording of the Guide Promise and Law introduced with new Section Promise badges.
1995  Margaret Wright (later MBE) appointed Chief Commissioner.
 1996   HM The Queen and HRH Princess Margaret officially opened the Heritage Centre.
Bridget Towle (later CBE) appointed Chief Guide.  (Title changed from Chief Commissioner.)
1997  Vice President Betty Clay appointed a Commander of the Order of the British Empire.
1998  Jeans are allowed as an official part of the Guide Uniform range.
Guiding Development Forum and Guiding Development Committee established.
1999  World Guide Camp of 3,500 Guides from 54 Countries held at Foxlease.
Vice President Betty Clay CBE awarded the Bronze Wolf  by the World Scout Committee.
 2000   Millennium events included a special commemorative badge.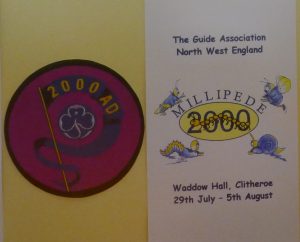 2001  Jenny Leach (later CBE) succeeded Bridget Towle as Chief Guide.
The Girls and Citizenship research launched.
Parliamentary Reception held at the House of Commons for former Guides and included 200 Members of Parliament and Peers, who had been Guides, also attending.
 2002  The Guide Association decided to rebrand as Girlguiding UK.
Death of HM Queen Elizabeth, The Queen Mother; Patron 1937-2002.
Death of HRH Princess Margaret, Countess of Snowdon; President 1965-2002.
 2003  HRH The Countess of Wessex appointed President.  Sophie had been a Brownie Guide.
Heritage Centre changed to ICANDO.
2004  Death of Betty Clay CBE, the Founder's younger daughter on 24th April.
Brownie Guides 90th Anniversary.
Brownie Rose named at the Chelsea Flower Show.  
2005  New Brownie Houses opened at Foxlease and Waddow.
Guides attended Eurojam, European Scout Jamboree held at Hylands Park, Chelmsford.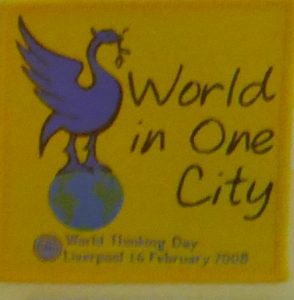 2006  Liz Burnley succeeded Jenny Leach as Chief Guide.
2007  1,000 members of Girlguiding UK attended the 21st World Scout Jamboree at Hylands Park, Chelmsford.
First Girls Shout Out!  UK-wide survey published.  New strap line girls in the lead adopted.
 2008  World in One City  held in Liverpool as part of World Thinking Day.
2009  Start of the Centenary celebrations launched at the Crystal Palace in London.