Scouting in the Nineties
 1990    Scouts Go For A Million Campaign launched.
Promise Appeal launched to raise 10 million over four years.
Eleven groups of Venture Scouts visited Russia, followed by exchange visits to develop Scouting.
1991    Cub Scouts 75th Anniversary and 50th Anniversary of Air Scouting.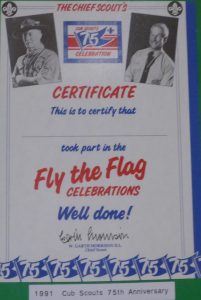 Royal Charter changes agreed so that girls can be invested as Beaver Scouts, Cub Scouts and Scouts.
UK Scouts organised an experimental camp in Odessa, Russia.
The 17th World Jamboree held at Mount Sorak National Park in South Korea from 8th to 16th August.  More than 20,000 Scouts represented 120 nations.  The Jamboree Theme was Many Lands, One World.
 1992    Promise Appeal 92 launched.  The first national fundraising since 1938.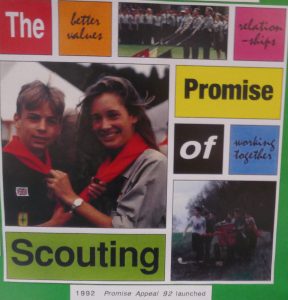 National Woggle Day held to raise funds for the Promise Appeal.
First Russian Scout Leaders at Gilwell Park for Training.
Group Scout Leader/Commissioner Training Scheme awarded the National Training Award from the Department of Employment.
1993    Unite partnership with Uganda Scouts and UNICEF for their health programmes.
Chief Scout, Garth Morrison, and Dr Alexandre Bondar, Director General of Russian Scouts visited the Scout Starter Boxes for Russia Display at the Rotary International of Great Britain and Ireland Conference in Blackpool.
Scout and Cub Scout Law slightly revised due to the admission of girls.
The Honourable Mrs Betty Clay started the redevelopment programme at Gilwell Park.
1994    Scouting the Way: Today & Tomorrow published.
Gilwell Reunion celebrated 75 years of Gilwell Park.  Dr John Frederick Wilkinson, the last surviving member of the first Course, attended.
6,000 Venture Scouts participated in European Venture.
1995    The 18th World Jamboree was held at Dronten in Flevoland, Holland from 1st – 11th August.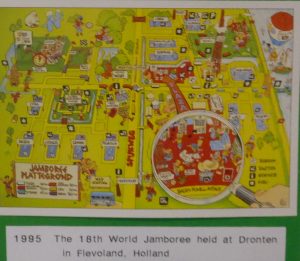 23,966 Scouts together with their Leaders represented 166 nations.  The Theme of the Jamboree was The Future is Now.
Integrated Pilot Project based in Coventry to explore ways of supporting Groups.
Scheme for the Authorisation of Adventurous Activities revised.
 1996    George Purdy succeeded Garth Morrison as Chief Scout.
The Scout Network, a pilot scheme for 18 to 25 year olds, launched.
ScoutBase website opened on the Internet.
1997    Major modernisation of Baden-Powell House Hostel completed.
First Jamboree-on-the-Internet linked the 30 million members  of the World Scouting Movement in 218 countries.
1998    Kosovo Clothing Appeal involved 100 centres provided by Scouts to send 50 plane loads of clothing to the people of Kosovo.
Going for Growth initiative launched to increase membership.
Outdoors '99, a 24 hour Challenge for Scouts, announced.
 1999    The 19th World Jamboree was held in Chile from 27th December 1998 to 6th January 1999.   The camp site was at Picarquin in the Andes foothills.  The Jamboree Theme was Building Peace Together.
Action for Angola partnership with UNICEF.
New Scout Information Centre opened at Gilwell Park.
First Scouting Heritage Tour organised by Scout Headquarters.