Scouting in the Eighties
1980    United Kingdom Scout Membership reached 641,281.
National Air Activity Centre at Lasham, Hampshire closed.
1981    Memorial Stone to the Founder, Lord Baden-Powell and Olave, Lady Baden-Powell
unveiled in Westminster Abbey.
500 Venture Scouts were torchbearers at the Royal Fireworks in Hyde Park.
1982    The Year of the Scout marked the 75th Anniversary of the Brownsea Island Camp.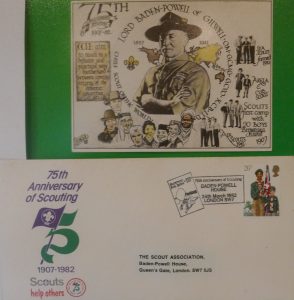 Major General Michael Walsh succeeded Sir William Gladstone as Chief Scout.
Scouts Commemorative Stamp issued as part of the special Youth Movement set.
National Cub Scout Tea Making Fortnight involved 250,000 Cub Scouts.
The Queen unveiled a plaque at Hawkhirst Scout Adventure Camp during her visit to inaugurate the Kielder Water Scheme in Northumberland.
Extoree '82 international camp for 1,500 handicapped and able-bodied Scouts held at Gilwell Park.
Beavers introduced for boys aged 6 to 8 years.
1983    The 15th World Scout Jamboree was held near Calgary in Alberta, Canada on the slopes of the Rocky Mountains.  15,000 Scouts from 100 countries attended.   The Jamboree Theme was The Spirit Lives On.
The Chief Scout, Major General Michael Walsh, visited Waddecar Scout Camp.
The Chief Scout's Challenge introduced for Scouts.
 1984    Venture Scouts visited Kenya and Sri Lanka as part of UNICEF's Decade of Clean Water Project.
1985    June Patterson-Brown, Chief Commissioner, visited Waddecar Scout Camp to attend the Girl Guides' International Camp, Pointer 85, which was held to commemorate their 75th Anniversary.
200 U.K. Venture Scouts visited Sri Lanka to help UNICEF's Decade of Clean Water Project.
1986    Rainbow Year celebrated the Cub Scouts' 70th Anniversary.
1,300 Venture Scouts participated in the Viking Venture to Denmark.
Beavers became full Members of The Scout Association and renamed Beaver Scouts.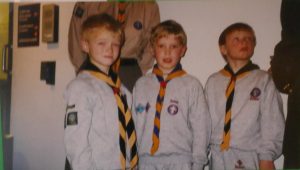 National Garden Festival at Stoke-on-Trent included a Woodland Scout Camp.
1987    500 Venture Scouts helped at the St John Ambulance Centenary Party in Hyde Park, London.  The event also included the cooking of the World's longest sausage (9 miles) by 250 Scouts from Greater London North East.
The 16th World Scout Jamboree was held at Cataract Scout Park in New South Wales, Australia from 30th December 1987 to 9th January 1988.  14,434 Scouts represented 84 countries.  For the first time the United Kingdom contingent included Ranger Guides.  The Jamboree Theme was Bringing the World Together.
1988    Venture Scouts marked their 21st Anniversary by launching the Sherpa '88 appeal to help the Sherpa people of Nepal.
W Garth Morrison succeeded Major General Michael Walsh as Chief Scout.
1989    King Carl XVI Gustaf of Sweden led the 1,500 Swedish Senior Scouts attending London Venture which involved 3,500 British Venture Scouts.
The Scout Athlete Badge was the first proficiency badge to be commercially sponsored.
Headwear abolished following the Uniform Consultation Survey.
Discovery '89  camps attracted 10,000 young people from over 40 countries.
Scout Leadership Training Programme commended by the Department of Employment.