Scouting in the 1920's
1920    First World Scout Jamboree and International Conference held at Olympia in London.  8,000 Scouts from 34 countries gave displays in the great arena and exhibitions in the side halls.
B-P acclaimed Chief Scout of the World.
The International Bureau established with Hubert Martin as its first Director.
Scout Officers were no longer permitted to wear Scout Proficiency Badges.
1921    Patrol Leader James Marr and Patrol Leader Norman Mooney selected by Sir Ernest Shackleton to go in The Quest  with him on his Antarctic Expedition.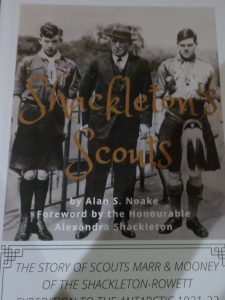 First Gillwell Reunion.
1922    Rovering to Success published.
Second International Conference held in Paris, France.
World Scout Membership passed the one million mark.
Posse of Welcome for the Prince of Wales at Alexandra Palace attended by 65,000 Scouts and Cubs.
B-P received the Legion of Honour.
Scout Migration Department established.
1923    The Headquarters Gazette became The Scouter.
The use of a woggle approved for holding the Scout scarf.
1924    Second World Scout Jamboree held at Ermelunden near Copenhagen, Denmark.  4,549 Scouts from 33 nations participated.  The Jamboree for the first, and last time,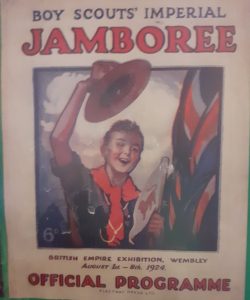 included tests to decide the World Scout Champions.
the Imperial Jamboree was held at Wembley with 28,494 Scouts attending from 34 countries and territories of the British Empire.
Special tests introduced for Scouts with special needs.
1925    600 Scouts participated in the Scout Migration Scheme.
The Wood Badge was adopted for both the Cub and Scout Sections ending the use of the Akela Badge.
1926    First National Rover Scout Moot held at the Royal Albert Hall.
Bronze Buffalo presented by the Boy Scouts of America in recognition of the unknown Scout
whose good turn inspired the start of Scouting in the United States of America.
Kandersteg International Chalet in Switzerland opened.
Fourth International Conference held at Kandersteg.
The Duke of York, later King George VI, presented with the Silver Wolf at the National Wolf Cub Palaver in London.
1927    The Rosemary Scout Convalescent Home opened at Herne Bay, Kent.
Legal protection for the Association's name, certain titles and badges provided by The Chartered Association, (Boy Scouts Association) Protection Order.
1928    Introduction of the Scout Group System combining Packs and Troops.
1,785,560 Scouts in countries recognised by the International Committee.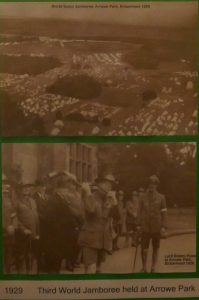 1929    B-P created Lord Baden-Powell of Gilwell. This resulted in the changing of the spelling of 'Gillwell' to 'Gilwell'.
3rd World Scout Jamboree held at Arrowe Park, Birkenhead. The Jamboree was also called the Coming of Age Jamboree to commemorate the 21st Anniversary of the publication of Scouting for Boys. 50,000 Scouts from 69 countries took part with a further 10,000 British Scouts camping in the vicinity.  There were 320,000 day visitors.  The heavy rain gave rise to the nickname of the Mudboree.
Deep-Sea Scouts Branch formed.