Guiding through the Decades 1950 -1969
1950   The World Song and World Brownie Badge adopted by the 13th World Conference.
All England Ranger Rally held at the Albert Hall and White City Stadium.
1951   First All England Cadet Rally.
1952   HM Queen Elizabeth II joined her Mother as Joint Patron of the Guide Association.
Lady B-P visited Blackpool and Lancaster.  Brownie Pack Holiday House opened at Waddow.
1953   Coronation of HM Queen Elizabeth II.  Guides undertook Tributes of Service.
Members wore the Coronation Tribute Badge.
HM Queen Elizabeth agreed to the renaming of the Queen's Guide Award to the Queen's Guide Badge.
1954   15th World Conference approved the establishment of the International Fellowship of Former Scouts and Guides.  The Trefoil Guild in the UK was a founder member.
1955   Imperial Guide Headquarters renamed Commonwealth Headquarters.
1956   The third World Guide Centre, Our Cabaña at Morelos in Mexico, dedicated.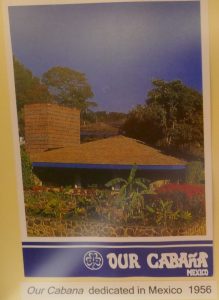 Anstice Gibbs (later DCVO, CBE) appointed Chief Commissioner.
1957   Baden-Powell Centenary Year.
Guides and Scouts celebrated their Founder's birth in 1857.
Lady B-P attended two of the four World Camps including the one held at Windsor Great Park, England.
1959   Princess Anne, the Queen's daughter, enrolled as a Brownie.
Lady B-P laid the Foundation Stone of Baden-Powell House in London.
Cadets and Rangers merged into a new Senior Section.
1960   Golden Jubilee Celebration of over 5 million Guides and Girl Scouts.
Birthday Festival held at the Empire Pool, Wembley.
Queen Elizabeth, the Queen Mother, became Patron of the Trefoil Guild.
1962   The first edition of The Brownie published.
1963   Lady B-P officially opened Brownsea Island in Poole Harbour at the invitation of the National Trust.
Guides and Scouts given permission to camp on Brownsea Island where B-P
held his experimental camp in 1907.
Our Ark renamed Olave House in honour of Olave, Lady B-P.
1964   Brownies celebrated their Golden Jubilee.
Guide Friendship Fund started.
1965   Death of Princess Mary, The Princess Royal, who had been President since 1920.
Princess Margaret, the Queen's sister, appointed President.
1966   Sangam, the fourth World Centre, opened at Pune in India.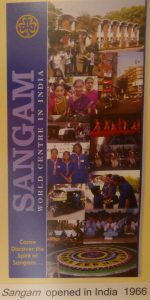 Raise the Roof  appeal launched to add another floor to Commonwealth Headquarters.
A team of Guides set a new girls' record for the Cross-Channel swim.
Mrs Ann Parker Bowles (later DCVO, CBE) appointed Chief Commissioner.
1967   The Student Scout and Guide Organisation (SSAGO) formed for Ranger Guides and Venture Scouts.
Lady B-P visited Preston and Waddow for its Ruby Jubilee Celebrations.
1968   The new Eight Point programme and Guide Handbook introduced.
1969   Official recognition of mixed units of Ranger Guides and Venture Scouts.