The Story of Scouting – 2000 to 2009
2000    Millennium Celebrations at Gilwell Park, Waddecar and many other Scout Camps.
11th World Scout Moot held in Mexico.
Be Prepared – The Story of Scouting, the Country's first purpose-built Scout Museum opened at Waddecar Scout Camp, Lancashire on 5th August.
Scout Headquarters next door to Baden-Powell House closed in December.
2001    Scout Headquarters co-location to Gilwell Park completed in January.
New logo and uniform introduced.
Modular Leader Training introduced.
Chief Scout George Purdy visited Waddecar to officially open Be Prepared – The Story of Scouting.  He also named Bill's Meadow  which the Scout County
purchased with part of Bill Fazackerley's legacy to add 8 acres of land to Waddecar.
2002    New training programme launched.
Age ranges revised for all Sections.  Explorer Scouts (15-18) and Scout Network (18-25) introduced.
The 20th World Jamboree was held at Sattahip, Thailand for 30,000 Scouts from 27th December to 7th January 2003. The Jamboree Theme was Share our World, Share our Cultures.
2003    New adult leader training scheme launched.
Venture Scouting closed.
National Scout Activity Centre strategy agreed to improve Headquarters' sites.
2004    The Hon Betty Clay CBE, B-P's youngest daughter died on 24th April.
Peter Duncan succeeded George Purdy CBE as Chief Scout.
Carl Hankinson of West Lancashire Scouts led the United Kingdom contingent to the 12th World Scout Moot in Taiwan.
2005    Paul Stanford of West Lancashire Scouts led the United Kingdom contingent to the Boy Scouts of America National Jamboree.
Eurojam 2005 held at Hylands Park, Chelmsford, Essex from 29th July to 9th August.
National Scout Fellowship Gathering held at Waddecar Scout Activity Centre.
2006    Peter Nicol appointed Deputy Chief Scout.
New Activities Permit Scheme introduced.
The John F Wilkinson Wing, an annex to Be Prepared -The Story of Scouting to tell the Story of Guiding opened by Honorary Architect Roy Fisher MBE.
2007    Centenary of Scouting.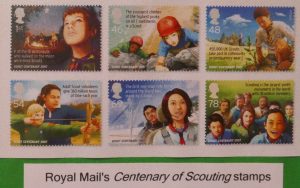 Royal Mail issue six special Centenary of Scouting stamps and The Royal Mint issue a commemorative Centenary of Scouting fifty pence coin.
Scout Michael Perham, 14, became the youngest person to cross the Atlantic single-handed.
21st World Scout Jamboree held at Hylands Park, Chelmsford, Essex from 27th July to 8th August for 40,000 Scouts. The theme of the Jamboree was One World, One Promise.
2008    KidsOutdoors programme introduced.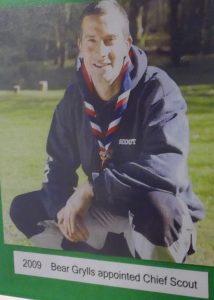 Stop the Rain Tax Campaign launched.
2009    Television Adventurer Bear Grylls succeeded Peter Duncan as Chief Scout.
Sea Scouts Centenary Jamboree held at Holme Pierrepont, Nottingham.
Fresh start for Scout Fellowship as Scout Active Support announced.