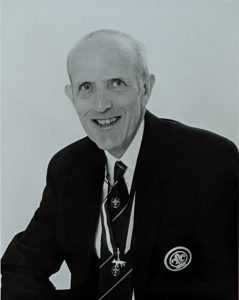 Michael Loomes was the consummate Scout for over 70 years, first as a Wolf Cub at the age of 9 with 17th Blackpool Scout Group, then as a Scout with 30th Blackpool Scout Group.  In 1952 he joined 45th Blackpool Scout Group and at the age of 15 he became a Senior Scout and Wolf Cub Instructor.   In April 1955 (aged 17) Michael was left to run the Cub Pack and enlisted the help of two friends, Barrie Bevan & Jim Seddon.  Michael was awarded his Queen's Scout Badge by the Chief Scout (Lord Rowallan) in April 1956 and later that year applied for his Assistant Scoutmaster Warrant so that he could run Scouts, becoming the Acting Group Scoutmaster – the Group now being run entirely by teenagers.
In 1957 Michael arranged for 38 Members of the Group to visit the World Scout Jamboree in Sutton Coldfield where he purchased several souvenirs, which formed the start of his collection of items relating to Baden-Powell and Scouting.  These and many more items have formed the basis from which 'Be Prepared – The Story of Scouting & Guiding Museum' was created.  Towards the end of 1957 Michael formed the Rover Scout Crew at the Group and in August of 1958 Michael resigned as the Group Scoutmaster of 45th Blackpool to move to Manchester to become a Teacher returning to Blackpool as often as possible to continue his involvement with the Rover Crew.
Although away from home Michael continued to be involved in Scouting with 419th Manchester Scout Group as well as helping with the Manchester County Guides.  February 1959 Michael was awarded the 'B-P Award', the highest award in Rover Scouting.  Michael's involvement with Scouting and Guiding saw him go to the Girl Guides Golden Jubilee Celebrations in London.  Michael moved to Warrington to continue his teaching career and in 1960 was appointed District Scoutmaster for Warrington & District Scouts.  In 1964 Michael moved to Liverpool, to a new school, and in the February formed 30th Warrington Scout Group at the school.  By 1966 Michael was the Assistant District Commissioner (Scouts) in Warrington and formed a Patrol Leaders Forum which involved both Scouts and Guides.
In 1968 Michael began studying at the University of Newcastle upon Tyne, helping with 73rd Newcastle upon Tyne Scout Troop.  On his return to Warrington, he found that the 30th Warrington had been closed by the new head of the school.  In 1970 Michael moved to Rawtenstall where he found time to help with 43rd Rossendale Scout Troop.  Michael returned to Blackpool in 1974 and was appointed Scout Leader, then Scouter in Charge, at 2nd Bispham Scout Group until 1985 when he handed over to become Assistant County Commissioner (Special Needs).  Michael was awarded the Silver Wolf in 1996 for his 'exceptional services to Scouting' and became West Lancashire Scouts representative on the National Scout Council.
1998 saw the start of the 'Be- Prepared – the Story of Scouting Museum' journey when the Trust was formed and building started.  In 2000 the building was handed over and was set up as the UK's first purpose built Scout Museum to house the collection Michael had accrued since 1957.  The Museum was officially opened in 2001 by George Purdy, the Chief Scout.  Michael retired as Assistant County Commissioner in 2003 and in 2006 opened the John Wilkinson Wing at the Museum to house 'Be Prepared – The Story of Guiding Museum' thus creating the UK's first Scout & Guide Museum.
Michael's Scouting knowledge, especially concerning B-P, is world renowned and he was always available to provide information on Scouting matters.
Michael was also very involved as a Rotarian having helped form the Blackpool Palatine Rotary Club in 1980, becoming it's President in 1989, and held many key positions including that of Club Secretary.  In 1993 the Club supported an initiative, suggested by Michael, to send Scout starter boxes to Russia, so linking two of the groups he most treasured by involving Blackpool and Polish Scouts and the Rotary.  With both his Scouting and Rotary connections, 350 boxes were sent to Russia. Those Scouting and Rotary links also led to the Club planting 37 trees at Waddecar in 2010, together with several visits to the "Little Gem" Museum that Michael organised for the Club.
Michael was awarded a Paul Harris Fellowship, one of Rotary's highest awards for his service and contribution to the Rotary over many years.
Michael was honoured by Her Majesty, Queen Elizabeth II in June 2022 with the MBE (Member of the British Empire) for his contribution to Scouting and the Community of Blackpool, an honour he was very proud to have received but never managed to have presented.
Michael's final days were spent at the Trinity Hospice in Blackpool which was entirely fitting as he was the Founder, as well as a Trustee of this Hospice.
On Sunday 16th April 2023, in accordance with his wishes, Michael was interred as close to the Museum as possible.  The short service, attended by many friends from both Scouting and Rotary as well as family members, was conducted by the Rev Keith Fenton (former Camp Warden at Waddecar).  Michael's ashes were placed in the ground by David Thornton (Chair of the Museum Trust) beneath a small plaque of remembrance.  Carl Hankinson, UK Chief Commissioner for Scouts, said a few appropriate words, in his usual manner, before unveiling a bench outside the Museum dedicated to both Michael and his brother Ron.  Those present were then invited to move into the Museum where Carl further unveiled a cabinet dedicated to Michael containing the three major awards he'd received throughout his life.