Guiding through the Decades 1930 -1949
1930   World Flag adopted.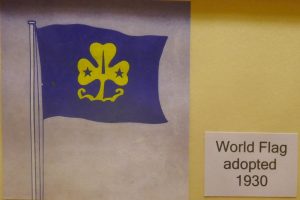 Olave Lady Baden-Powell acclaimed World Chief Guide.
Lady B-P unveiled the Royal Scot Class Engine The Girl Guide at Euston Station.
B-P visited the Scout County Rally at Squires Gate, Blackpool to which a thousand Guides had also been invited.  B-P stayed with Mary Birley, County Commissioner and newly appointed Chief Commissioner at her home in Wrea Green, Lancashire. (Now The Villa Restaurant.)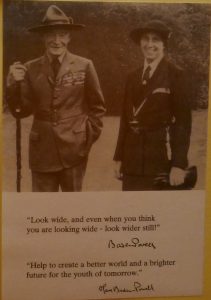 1931  Guide Headquarters moved to 17-19 Buckingham Palace Road
and officially opened by HM Queen Mary on 20th March.
 1932  Our Chalet, the first World Guide Centre, opened at Adelboden in Switzerland.
Lady B-P created Dame Grand Cross of the British Empire.
Thinking Day Fund started.
1933  First Goodwill Cruise, one of three organised by Lady B-P with B-P, to the Baltic on the SS Calgaric.
1934  Second Goodwill Cruise on SS Adriatic visited Mediterranean countries.
1935   Silver Jubilee of the Guide Association celebrated.
1936   Ring of Adventurers held at the Albert Hall.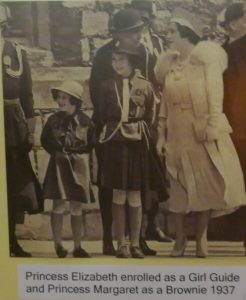 1937   HM Queen Elizabeth (the late Queen Mother) became Patron of the Guide Association.
Princess Elizabeth enrolled as a Guide and Princess Margaret enrolled as a Brownie
1938  Third Goodwill Cruise on SS Orduna to Holland and Scandinavia.
B-P and Lady B-P go to live in Paxtu in Nyeri, Kenya.
 1939   4,000 Guides and Girl Scouts attended Pax Ting in Hungary.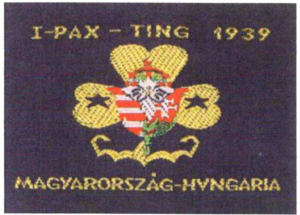 World Guide Centre, Our Ark opened in London.
Due to the war Waddow became a Childrens Hospital; Foxlease accommodated evacuated children.
1940   Guide Gift Week raised money to purchase a lifeboat and ambulances for the armed services.  Home Emergency Scheme introduced.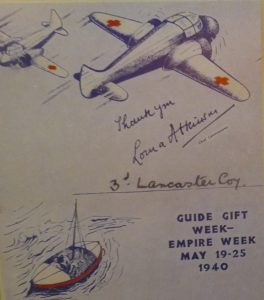 1941   B-P died in Nyeri, Kenya on 8th January.  The B-P Memorial Fund was launched.
1942   Guide International Service (GIS) formed to select and train Guiders for relief work after the War.
Lady B-P returns to England and was granted a Grace and Favour apartment in Hampton Court Palace.
International Camp held at Waddow near Clitheroe in Lancashire.
1943   Trefoil Guilds introduced for members over 21.
1944   The first Guide International Service Teams sent to Egypt and Greece.
1945  Guide International Service Teams start work in Germany and Holland.
Air Rangers, started in 1944, officially recognised.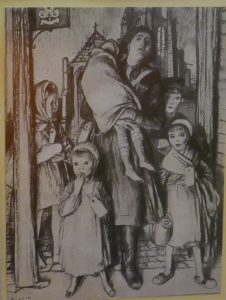 1946   The Queen's Guide Award instituted.
All England Ranger Rally held at the Albert Hall in London.
1947  Trefoil Guilds registered at Guide Headquarters.
1948  Guide Club opened in London to provide accommodation for Guiders.
Lady B-P visited Preston and Waddow's 21st Birthday Celebrations.