Guiding through the Decades 1908 -1929
1908    Scouting for Boys published.  Boys and girls formed Scout Patrols.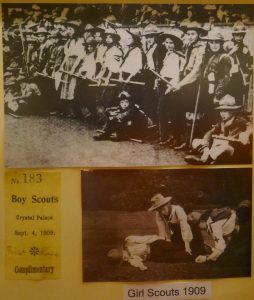 1909   First Boy Scout Rally held at Crystal Palace, London on 4th September attended by 11,000 Scouts and some Girl Scouts.  6,000 girls had registered as Girl Scouts.  B-P published his scheme for Girl Guides in the November edition of The Headquarters Gazette.
1910   Girl Guides Association inaugurated with Agnes Baden-Powell, B-P's sister as its Leader.
1912   B-P married Olave St Clare Soames at St Peter's Church, Parkstone, Poole.
How Girls Can Help To Build Up The Empire is published.
1913   Olave, Lady Baden-Powell formed a Scout Troop in Ewhurst.
She wrote and addressed meetings on the role of Lady Scoutmasters.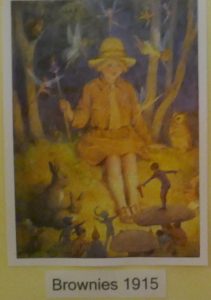 1914    Girl Guides Gazette published.
Junior Section for girls aged 8 to 11 formed and initially called Rosebuds.
1915    War Service Badge introduced.
Rosebuds renamed Brownies.
Olave, Lady B-P spent four months with other Scout workers staffing the Scout Recreation Hut
for soldiers in France.
1916    Olave, Lady B-P appointed Guide County Commissioner for Sussex.
Senior Guide groups formed.
Guides collected money to purchase two Recreation Huts and an Ambulance for the Troops in France.
Conference of Commissioners held in Matlock appointed Olave, Lady B-P Chief Commissioner.
1917   The first Headquarters Shop, 84 Victoria Street, London, opened.
1918    HM Queen Alexandra visited the Guide Rally in Hyde Park.
Olave, Lady Baden-Powell appointed Chief Guide for the British Empire.
1919    International Council established to develop contact between countries that had Guides or Girl Scouts.  This Council was later to become the World Association.
Guiders and Senior Guides acted as messengers at the Peace Conference in Versailles.
1920    HRH The Princess Mary, the Princess Royal, appointed President.
Senior Guide groups renamed Rangers.  Sea Ranger Section formed.
First International Conference held at Oxford.  Taps adopted as a closing hymn.
Girl Guiding, A Handbook for Guidelets, Guides, Rangers and Guiders published.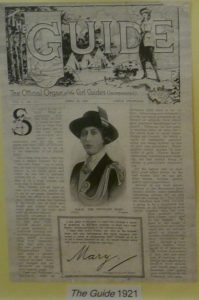 1921    The Guide a weekly publication for Guides introduced.
1922    The Girl Guide Association granted a Royal Charter of Incorporation.
Foxlease, the first Guide Training Centre opened at Lyndhurst in the New Forest.
1924    First World Camp held at Foxlease.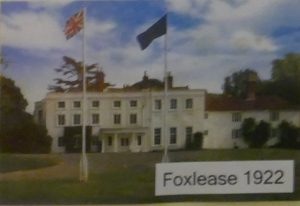 1926    Thinking Day instituted to commemorate the joint birthdays of B-P and Olave, Lady B-P
on 22nd February when all Guides would think of the world-wide fellowship of Guiding and sister Guides.
1927   Waddow Hall near Clitheroe in Lancashire opened as a training and activity centre.
1928    The World Association of Girl Guides and Girl Scouts (WAGGGS) was formed.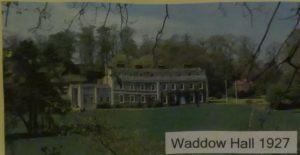 1929    The Camp Hospital at the 3rd World Scout Jamboree staffed by Girl Guides.