Scouting in the Fifties
1950    Loss of the 1st Mortlake's boat Wraggle III with all ten Sea Scout members of her crew.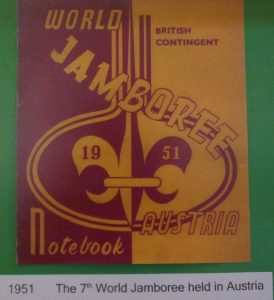 The Soap Box Derby resumed.
National Conference at Filey included the first performance of Ralph Reader's Great Oaks.
Air Scout Troops became eligible for Air Ministry Recognition.
Revival of the London Gang Show.
World Scout membership reached a total of 5,000,000 in 50 countries.
1951    7th World Scout Jamboree held in Austria at Bad Ischl.  12,884 Scouts represented 61 countries.
1952    Berets introduced as an alternative, formal, head-dress for Senior Scouts, Rovers and Scouters.
Queen Elizabeth II reviewed the national parade of Queen's Scouts at Windsor Castle.
Scouts on duty at the Coronation of HM Queen Elizabeth II.
1953  Lord Rowallan, Chief Scout, attended the County Rally held in Moor Park, Preston.
1954    Albert and Alice Waddecar donated the money to purchase Waddecar Scout Camp.
Berets were permitted as an alternative head-dress for Boy Scouts.
The Chief Scout visited Cyprus, Gibraltar, Malta, Greece and Italy accompanied by Harald Dahl.
1955    RRS Discovery handed over to the Admiralty for use by the RNVR.
First Gliding Course for Scouts held at Lasham in Hampshire.
Soap Box Derby National Finals held at Morecambe.
8th World Scout Jamboree, the first in the Western Hemisphere was held at Niagara-on-the-Lake, Canada.  11,139 Scouts attended from 71 countries.  This, the first World Scout Jamboree held outside of Europe, was known as The Jamboree of New Horizons.
World Scout Membership reached 6,360,762.
1956    International Scout Club formed.
First National Commissioners' Conference for 20 years held at Skegness.
1957    Centenary of B-P's birth.  Thanksgiving Service held at Westminster Abbey.
B-P Memorial Fund public appeal launched at the Mansion House by the Lord Mayor of London.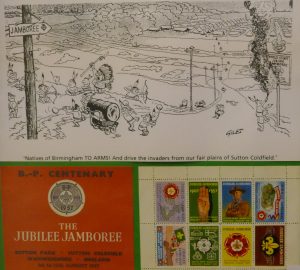 National Collective Good Turn Week.
9th World Scout Jamboree held at Sutton Coldfield in Warwickshire.  It was known as J.I.M. because it also included a Scouters' Indaba and the 6th World Rover Moot.  33,000 Scouts represented 90 nations.  Queen Elizabeth II and Prince Philip visited the Jamboree on 3rd August.  Special postage stamps issued to commemorate the Jamboree.
Royal Variety Performance included The Gang Show.
World Scout Bureau moved from London to Ottawa in Canada.
World Scout Membership reaches 7,589,183.
1958    First Jamboree-on-the-Air (JOTA).
The Chief Scout unveiled an obelisk in Sutton Park to commemorate,  and mark the site of, the 1957 World Scout Jamboree.
Site cleared ready for the building of Baden-Powell House.
Scheme of Founder Groups and over 5,000 Brick collecting boxes issued.
1959    The 10th World Scout Jamboree, the first to be held in Asia, took place at Makiling in the Philippines.  12,203 Scouts from 44 countries took part.  The Jamboree Theme was Building Tomorrow Today.
Sir Charles Maclean succeeded Lord Rowallan as Chief Scout of the Commonwealth.