Guiding through the Decades 1970 -1989
1970   The Guide Association celebrated its Diamond Jubilee Year.
1971   Singing along with the Girl Guides, the first long-playing record of songs and music made by Guides in conjunction with the BBC.
1972   Harry Wheatcroft named a new scarlet rose Olave Baden-Powell.
1973   LINK International Fellowship established by the Trefoil Guild for former Rangers and Venture Scouts aged 18 to 30 years.
Window on my Heart, the autobiography of Olave, Lady B-P published.
1974   Lady B-P received the Ceres Medal from the United Nations' Food and Agriculture Organisation.
1975   Sheila Walker JP (later CBE) appointed Chief Commissioner.
22nd World Conference held at Sussex University.
Lady B-P made her final visit to Guide Commonwealth Headquarters.
1976   The first National Scout and Guide Symphony Orchestra Course held.
Lady B-P made her last television recording which was broadcast in 1977.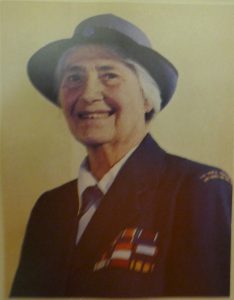 1977   Lady B-P died on 25th June aged eighty-eight.
1979   The first Olave Baden-Powell Bursaries awarded to help individual Guides 'make a dream come true' using the interest from the United Kingdom Chief Guide's Memorial Fund.
1980   The Guide Association launched its pilot schemes for the Queen's Silver Jubilee Projects.
Junior Council formed to give members aged 16 to 26 years a voice.
Lady Patience Baden-Powell (later CBE) appointed Chief Commissioner.
1981   Joint memorial for B-P and Lady B-P dedicated in Westminster Abbey.
The Guide Association adopt the slogan Enabled though Disabled for the International Year of Disabled People.
1st Wigan West, St Luke's Orrell Company proclaimed the first winners of the Olave Award.  The award was instituted by the World Association of Girl Guides and Girl Scouts (WAGGGS) for outstanding community service.
1982   The Royal Mail issued their first Girl Guide postage stamp.
The first WAGGGS Week held in aid of the proposed Olave Baden-Powell Centre.
1983   The Queen's Guide Brooch introduced for Rangers and the Baden-Powell Trefoil started for Guides.
1984   Brownies' 70th Birthday.  Hautbois given to Girlguiding Anglia by the Patteson sisters.
The Olave Baden-Powell Society established.
1985   Guiding celebrated its 75th Birthday.
Dr June Patterson-Brown, Chief Commissioner, visited Waddecar Scout Camp for Pointer 85.
Phase 1 of the Olave Baden-Powell Centre in Hampstead, London completed.
1986   Guides participated in the Doomsday Project which commemorated the 900th Anniversary of the completion of the original Doomsday document.
1987   Rainbow Guides, a new Section for younger members aged 5 to 7, introduced.
1988   Olave House closed on 17th September.
1989   HM The Queen attended the presentation for the centenary of Lady B-P's birth.