HISTORY OF BE PREPARED – THE STORY OF SCOUTING AND GUIDING (AKA: THE LITTLE GEM)
The Early Days – 1957-2000
The Baden-Powell and Scout History Collection
This collection of Scouting Memorabilia was established by Michael Loomes in 1957 after he had visited the 9th World Scout Jamboree, held at Sutton Coldfield in the Midlands. As a young Scouter he purchased several souvenirs at the Jamboree to convince his Scouts that they were part of a World Movement. The first public exhibition of the Collection was held in 1958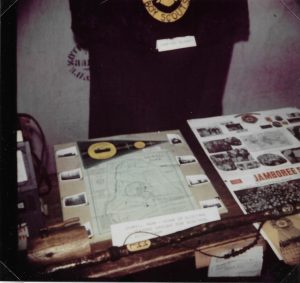 followed by many more small events until, in 1967 as A.D.C. for Scouts in Warrington and District, Michael decided to arrange a large exhibition as part of Scouting's Diamond Jubilee.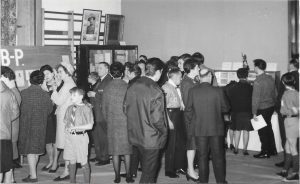 The event, to be held at Greystone Heath, Liverpool's Approved School, it was attended by well over a thousand people. I arranged to borrow memorabilia from many sources including B-P's former regiment the 13th/18th Royal Hussars and the South Lancashire Regimental Museum. With five of his Scouts, he left for London in the School minibus at 4.00am to collect the memorabilia from Scout and Guide Headquarters and his friend John Roake. Unbeknown to Michael, John had arranged for them to visit Olave, Lady Baden-Powell in Hampton Court Palace. After tea Lady B-P offered to lend items for the exhibition but Michael declined because of the value of the other material let alone hers. She gave him some of B-P's Christmas cards and rewrote on headed notepaper the welcome she had pinned to her door; 'WELCOME! PUSH the DOOR and WALK IN. (I am at my desk as usual!) Olave Baden-Powell.'
Following this inspiring evening Michael was determined to use all his available resources to build a premier collection to serve the Northwest of England. Although he was already an enthusiastic member of the Scout Stamp Collectors' Club his Baden-Powell and Scout History Collection aimed to encompass all aspects of the Scout Movement including material on Guiding. The Collection is dedicated to her and Lord Baden-Powell of Gilwell.
The immediate aim was a mobile museum (Little Gem on Tour) which could be quickly set up at any venue, for any size of exhibition or to support an illustrated talk. The major sections of the Collection dealt with B-P, Lady B-P, the Siege of Mafeking, the Brownsea Island Camp, the early days of Scouting and World Scout Jamborees. The most valuable items were original material relating to the Siege of Mafeking and original B-P sketches, mainly from his books, including one of the missing sketches from the manuscript of Scouting for Boys. There were awards, badges, books, letters, newspapers, postcards, and souvenirs from every World Scout Jamboree.
Writing about the Collection in 1969 Olave, Lady Baden-Powell said it 'is of such importance for the present-day Scouts and Guides to learn from so that they may the more fully understand and realise what a marvelous thing they are members of and appreciate its romantic birth and growth and progress'. (Extract from a letter written to Michael Loomes on 13th April 1969.)
In 1971 Michael was invited to mount an exhibition in the C.I.C. (Colquhoun International Centre) which was to be officially opened by Lady B-P during the Gilwell Reunion. She inspected the display without a word until she got to the end when she asked him what arrangements he had made for the Collection in his Will. On being told that he had not made a Will, she urged him to do so to protect its future.  Following this advice Michael dutifully made a Will, which eventually led to the creation of the Story of Scouting Museum Trust in 1998 and the building of the Museum at the County's Scout Activity Centre at Waddecar.
Many people have generously donated items to the Collection most notable being Olave, Lady Baden-Powell. Other donors include Astronaut Neil Armstrong (The first man to set foot on the moon), Patricia Butterworth, The Honorable Betty Clay CBE (B-P's daughter), Harald Dahl, William Fazackerley, the Cartoonist Carl GILES, Jeanne Hudak, Lesley Knight, John & Vera Loomes, Ron & Vera Loomes, Celia Nuttall, The Queen's Lancashire Regiment, The Lancashire Fusilier Collection, 13th/18th Royal Hussars, Moira Walker and Dr John Frederick Wilkinson. The help and encouragement of the Scout Association's Archivists, initially Graham Coombe, was invaluable.
The mobile museum was mostly mounted on over 140 acetate-covered Display Boards 36″ high and 24″ wide. These were clipped together to provide versatile displays. Other items were displayed in sixteen glass-topped display cases. There were nine life-size, two-dimensional figures wearing various Scout uniforms. Exhibitions were held throughout the North-West of England and much further afield. By 24th June 1998 over 320 exhibitions and illustrated talks had been given. Part of the Collection has been exhibited in Norway and the U.S.A. No charges or expenses were ever made. Security was a priority so the Collection, was stored in various places, never loaned, or left unattended at exhibitions. Olave, Lady Baden-Powell, World Chief Guide visited the Collection at Gilwell Park in 1971.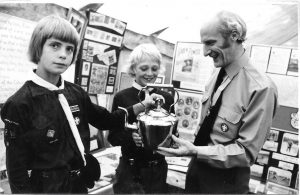 Her grandson, Lord Baden-Powell visited twice. Her daughter, the Hon. Betty Clay CBE, visited on four occasions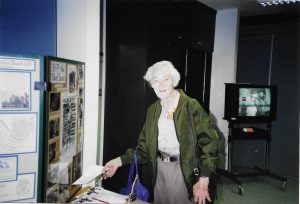 . Lord Maclean was the first Chief Scout to visit. Since then, all his successors have seen part of the Collection at Gilwell Park, Great Tower or visited the museum.